Our Story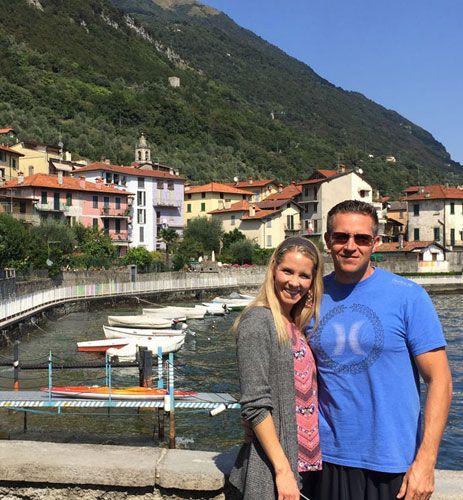 Our History
Matt Jones embarked on a mission to learn as much as he could about pizza, Italian gelato, and the ambiance experienced by traveling the United States, and even the world. His first stop in that quest was a nationally known manufacturer of pizza ovens, where he was educated on the necessary cooking methods and properly trained in the art of making pizzas. Next, he landed on his path to build out the necessary ingredients for his budding concept to function, such as recipes and procedures, so he hired Karen Malody — a two time consultant of the year for the National Restaurant Association –to help establish the foundation of Firo Fire Kissed Pizza. Together the two trained a staff of "Firo-istas" in the proper portions and procedures for making authentic, Italian artisan pizzas, salads, and gelato, while also maintaining a consistently warm and authentic atmosphere and experience for all of our guests.
Matt decided to offer signature or build-your-own pizza and salads from freshly prepared products each day as well as fresh gelato made with the same recipes and ingredients found in Italy. A favorite, the Primo, is topped with mozzarella, parmesan, gorgonzola, smoked prosciutto and a drizzle of fig and balsamic reduction. Matt also chose a Tuscan ambiance that is a balanced blend of comfort and subdued elegance with a mixture of rustic, earthy elements and rich, artistic accents that project warmth and a cultural style.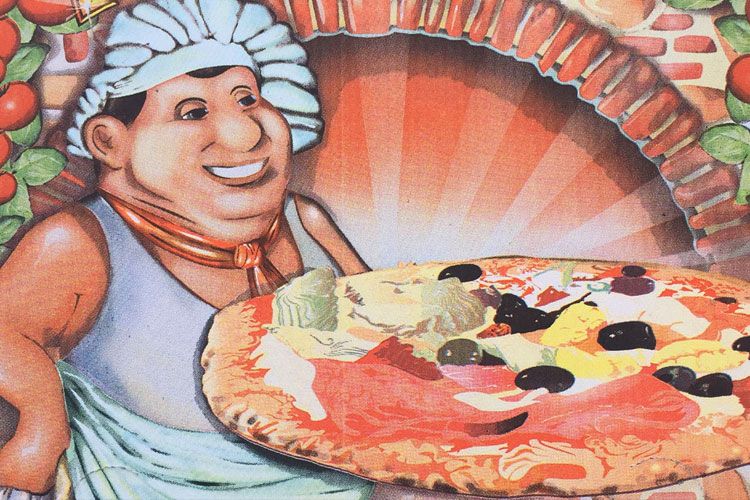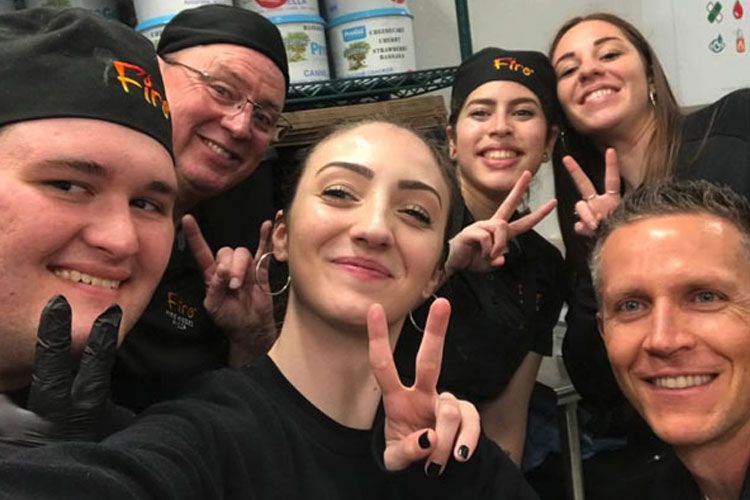 As the customer enters the restaurant, a "Firo-ista" welcomes them with a smile and begins to take their order. Fresh pizza dough, which is made from scratch and matured for 24 hours, is placed on a pizza press to form the crust. If the customer chooses to build their own pie, they are offered a choice of sauces — red, olive oil or alfredo. The unique red sauce is made from tomatoes imported from Italy and crushed to release their naturally sweet flavor.
As the customer advances through the line, they make a visual selection of freshly prepared meats, cheeses and vegetables and watch as the "Firo-ista" assembles their pizza. The pizza is then placed in an open-flame stone hearth oven where it cooks in less than five minutes. Firo also offers signature or build-your-own salads from freshly prepared products each day as well as fresh gelato made with the same recipes and ingredients found in Italy.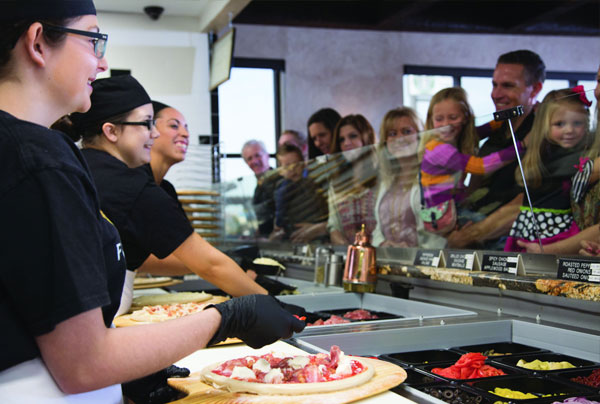 Our Timeline
2014
Firo Fire Kissed Pizza opened to the Lawton, OK community on October 27th
Firo Pizza has received a tremendous amount of positive press, as well as inquiries regarding franchising since opening
2015
After building a strong reputation, Firo Franchise Enterprises, LLC had turned to franchising as a means of expanding their business while maintaining the strong reputations for which Firo is known
2016
Firo Franchise Enterprises started selling Franchises
Ability to offer individuals the same opportunities – the ability to operate a fun, fulfilling, and profitable business while at the same time expanding the Firo Fire Kissed Pizza family
2018
Our second company unit opens in the community of McKinney, TX in August
2019
Our third company unit opens in the in the community of Georgetown, TX in March
2020
New location opens in the community of Wichita Falls, TX in June
Our Purpose
The Firo Experience
Our Firo Fire Kissed Pizza family is committed to proudly delivering a consistent artisan experience through unmatched passion for quality food, family, fun, and giving back locally.
Our Values
Culture
We strive to create a fun and fulfilling work environment through a guest centric culture
Quality of Life
We are committed to quality of life both at home and at work
Thankfulness
We demonstrate gratitude in our daily interactions with our guests, team, and community
Respect
We respect individual needs
Environment
We provide a clean, safe, and inviting environment for our guests and team members
Communication
We communicate openly, clearly, and honestly
Health
We are a profitable and fiscally responsible company. We support the physical and emotional well-being of our guests and team members