McKinney, TX
Address:
3520 W University Dr., Suite #400 McKinney, TX 75071
Phone:
(469) 296-FIRO
Open until 10pm
See our hours of operation
McKinney Hours
Monday thru Thursday: 10:30 a.m. – 9 p.m. Friday & Saturday: 10:30 a.m. – 10 p.m. Closed Sunday
x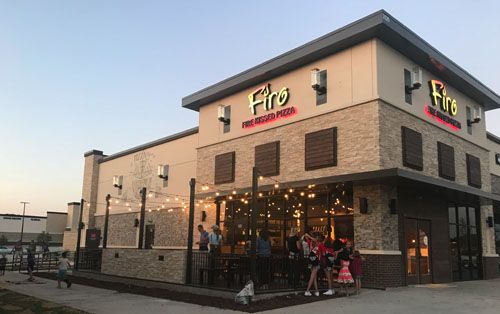 If you want the best pizza in McKinney, look no further than Firo Fire Kissed Pizza at the NW Corner of Hardin & 380. Our founder was inspired by the authentic Italian pizza that he enjoyed on vacation in Italy, and he dreamed of being able to have the same caliber of pizza right here in McKinney, TX. With so much success and demand for more locations, we opened our doors in McKinney, TX in August of 2018. Firo Fire Kissed Pizza has quickly became a local favorite because of the high-quality ingredients, the authentic Italian fire-roasting method, and the warm Tuscan ambiance of the restaurant. We offer McKinney guests a unique dine-in experience with signature or build-your-own pizzas and salads from freshly prepared products each day. Your Firo Pizza experience begins the minute you walk through our doors and are welcomed by one of our "Firo-istas". To begin your order, we place the fresh dough, which is made from scratch and matured for 24 hours, on a pizza press to form the crust. You then have the option to choose from our list of signature favorites, like the Primo or the Carne, or get creative and customize your pie just the way you want it. With over 50 different ingredient options, you are guaranteed to find satisfying combinations for even the pickiest of eaters. Once your Firo Pizza order is complete and assembled just the way you want it, we then place it in our open-flame stone hearth oven where it cooks at a temperature of 500 degrees in less than five minutes so you won't be waiting long. To accompany your Firo Pizza, we also offer five different signature salads including a classic Caesar or Greco. Just like with our pizza, you also have the option to build-your-own with a wide selection of add-ons and dressings. Don't forget to complete your Firo Pizza meal with some of our Italian gelato made fresh daily! Each week we feature different recipes made with the same ingredients found in Italy to help give your taste buds that delicious, authentic experience. See for yourself why the people in McKinney love our gelato so much. Firo Fire Kissed Pizza is committed to proudly delivering a consistent artisan experience through an unmatched passion for quality food, family, fun, and giving back locally right here in McKinney. Come in and experience for yourself what our McKinney Firo Pizza fans are raving about!